The 2020 Subaru Forester Is Safer, Roomier, and Well-Received
Customers who were on the fence about the 2019 Subaru Forester will find themselves won over by the changes made to the 2020 model, which is blazing a trail of strong sales and positive reviews nationwide.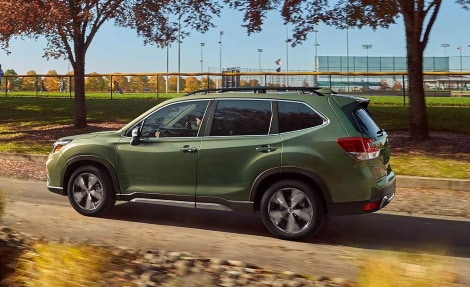 This latest incarnation of the Subaru Forester places a greater emphasis on safety and efficiency, offering several minor improvements for only a small increase in cost. For those looking for an affordable, safe, and reliable SUV for sale in Olathe, Kansas City, and Lawrence, then the 2020 Subaru Forester available at a local Subaru dealership near me might be perfect.
Trim Options and Cost
One of the most impressive things about the Subaru Forester is how much you get in each trim. Most people will be happy with the Premium trim, which is priced very competitively.
Five trim levels are offered on the 2020 Subaru Forester for sale in Olathe now — the Base, the Premium, the Sport, the Limited, and the Touring. Come to our Subaru dealership to see which of these trims is best for you and your family.
Here is the pricing breakdown:
Base: around $25,505 (a $235 increase)
Premium: around $28,405 (a $735 increase)
Sport: around $30,005 (a $235 increase)
Limited: around $32,105 (a $335 increase)
Touring: around $35,605 (a $335 increase)
New Features
Additional improvements to EyeSight safety technology
Extra room and comfort
All-weather package available on Premium trim or higher
LED license plates
Improved Safety
Once again, all 2020 models come equipped with Subaru's acclaimed EyeSight driver assistance function. Two new EyeSight features — Lane Departure Prevention and Advanced Adaptive Cruise Control with Lane Centering — are installed on all trims.
The Touring trim has a DriverFocus Distraction Mitigation System with built-in facial recognition to help minimize the problems caused by distractions or fatigue on the road. A reverse braking automation system is included in the Touring trim and is available for the Sport and the Limited.
Lastly, all trims (excluding the Basic) feature Subaru STARLINK Safety and Security, which helps alert appropriate authorities after an accident.
Comfort, Space, and Entertainment
The new Forester has an increased wheelbase, allowing for greater room in the vehicle interior. Cabin and cargo space have been increased to 111.9 and 76.1 cubic feet respectively, and an automatic rear gate feature comes standard on the Limited and Touring trims (and is available on Premium and Sport).
All but the Basic trims have Wi-Fi Hotspot connectivity, allowing the entire family to stream entertainment or browse their favorite websites.
All models come installed with the STARLINK Multimedia system, which includes a voice-activated navigation system and access to apps and other digital content. Customers can also choose to purchase the STARLINK entertainment bundle on any model of their choosing. This package contains two Apple iPad tablets with OtterBox Defender Series cases, as well as two Harman Kardon Bluetooth Headphones. Roof racks with tie-down points are included on all models.
Efficient Driving and Stronger Powertrain
The 2020 Forester is the only non-luxury compact SUV with Symmetrical All-Wheel Drive as standard. This feature makes the vehicle far more responsive and efficient in adverse conditions than your typical SUV.
The four-cylinder, 2.5-liter SUBARU BOXER engine is more powerful than the 2019 model: it provides 176 pounds per foot of torque (up from 174) and 182 horsepower (up from 170).
The Lineartronic CVT, standard in all trims, provides better acceleration than ever before. The entire powertrain is managed by Subaru's standard SI-DRIVE system. These improvements help the Forester reach a respectable 33 MPG/highway (estimated).
Forester trims feature a ground clearance of 8.7 inches, which is high compared to most SUVs and can really come in handy when driving through rugged or muddy terrain. For particularly bumpy rides, customers will enjoy the X-MODE traction control system in the Premium trim: a more advanced Dual-Function X-MODE is featured in Sport, Limited, and Touring models.
The durability of the Forester line is another one of its hallmarks. Subaru.com claims that 97% of Foresters from 10 years ago are still on the road, and many of the features listed above should only serve to increase that statistic.
Reception and Acclaim
The 2020 Subaru Forester has been well received by vehicle websites and SUV aficionados alike. Cars.com rates the Forester a 5/5 based on customer reviews, with particular praise given to the roomy interiors, sleek exteriors, and smooth acceleration.
Car and Driver awarded the Forester a 4/5 and praised the roominess of the model.
Extremetech also posted a positive review of the "Safety-First" SUV, while also noting that the Premium trim (the 2nd lowest) has more than enough tech and safety features for the average consumer.
In an 8.6/10 review, Carbuzz praised the Forester's reliability, safety, interior, cargo, and value — positives that seem to be common among all reviewers of this model.
Lastly, Edmunds.com gives the Forester a respectable rating of 7.8/10 and a consumer rating of 4/5, praising the SUV's cargo capacity, all-wheel-drive capability, and safety features.
Summary
Thanks to its formidable value, efficient performance, roomy interiors, excellent safety additions, and a packed Touring trim, the Forester has the potential to dominate the SUV market this year.
At Olathe Subaru, we're waiting to introduce you to the new Subaru Forester. Not only can you test drive the 2020 Subaru Forester around Olathe, Kansas City, and Overland Park, we can also give you detailed information on the various trim levels and options of the 2020 Subaru Forester for sale in Kansas City and Missouri.
At our local Subaru dealership in Olathe, we also carry a wide range of used Subaru Foresters for sale. If you're looking for a bargain on the Subaru Forester, consider the 2019 Subaru Forester or even the 2018 Subaru Forester. Although the latest model has some excellent improvements over the all-new design introduced last year, you can make a significant saving if you choose an earlier-year model. Come down to Olathe Subaru and we'll help you make the choice.