The Forester vs. The Escape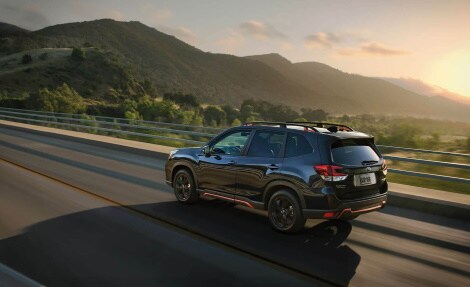 Why should you choose a new 2020 Subaru Forester over a 2020 Ford Escape when shopping for a new car in Olathe, Lenexa, or Shawnee? Come down to our Subaru dealership in Olathe to test drive the 2020 Forester and you'll see there is a world of difference between the two popular models.
Reliability
With so many other things to worry about in one's life, the last thing that should be on your mind is whether your transportation is reliable and efficient. Two vehicles that always deliver when it comes to those categories are the Subaru Forester and the Ford Escape, as both deliver when it comes to reliability.
However, the Subaru Forester has won the ALG Residual Value Award for the past four years running. This award recognizes vehicles that keep their value their most in their class. The Subaru Forester keeps its value the most principally thanks to its excellent reliability.
Luxury
It's true too that if comfort and luxury are what you're in the market for, both of these brand new rides can more than hold their own.
However, the 2020 Subaru Forester raises the bar higher than anything comparable currently on the highway. This vehicle has set a very high standard for all automobiles to follow when it comes to luxury in an SUV.
The Forester is loaded with state of the art technology that empowers drivers to think bigger and take on the open road in a whole new way.
Safety
None of the features are just about being flashy, however, as the designers of the 2020 Subaru Forester put a major emphasis on ensuring driver safety. Eyesight Driver Assist Technology comes equipped in the 2020 Subaru Forester for sale in Olathe, a feature that has been found to reduce rear-end crashes with injuries by up to 85%.
Furthermore, Automatic Pre-Collision Braking is just another safety measure that owners of the 2020 Subaru Forester can rely on. It greatly reduces the risk of having an accident in many situations.
The safety features on this vehicle do not stop there, as Advanced Adaptive Cruise Control with Lane Centering is installed as well. Drivers can cruise easily knowing they have steering assistance, and help with braking and throttle control.
This feature is not only available on the open highway. It is also there for drivers to take advantage of during daily traffic on those commutes to and from work and just running errands. Lane Departure Prevention allows the 2020 Subaru Forester to automatically steer back into their lane seamlessly, an action that can also help prevent a potential accident at any time.
The Distraction Mitigation System that comes in the Forester flat out takes things to a whole new level, as this safety measure helps reduce distractions for both new and experienced drivers. This feature has been described as being equivalent to having an attentive co-pilot along for the ride at all times. It is easy to see why the 2020 Subaru Forester is impressing all when it comes to safety.
Off-Road
While the safety measures that this ride is equipped with are impressive, the 2020 Subaru Forester has a ton more to offer. It is, in fact, the perfect vehicle for individuals who enjoy off-road adventures, making it great for daylong mountain climbing in those places that other rides would never dare go.
Thanks in large part to its 8.7 inches of ground clearance and an X-mode drive setting that includes trail capability and Hill Descent Control, buyers looking for an all-wheel-drive crossover on steroids have found it in this ride.
Comfort
There is a great deal of comfort when operating the 2020 Subaru Forester, making it not only a tough and rugged vehicle but a versatile family vehicle too. It features well-padded seats with good lumbar support, and will always keep occupants comfortable on long road trips.
Furthermore, the suspension on the vehicle sees to it that all those potholes in the road feel are absorbed.
The heated seats in the vehicle will also make sure everyone along for the trip is kept warm during those cold winter months when the weather outside is not for the faint of heart.
Is There any Reason to Choose a 2020 Ford Escape over a 2020 Ford Escape?
In contrast, the 2020 Ford Escape has several features in its own right that make it an alluring vehicle. It is fully redesigned and the hybrid version is finally back after a long absence. Although the Forester has an edge when it comes to toughness and technology, the Escape is not a terrible vehicle.
With its new and improved design, the vehicle now looks sportier than ever while also being made two hundred pounds lighter than former designs. The Escape is also a very practical choice for anyone who is looking for cargo space, as the sliding rear row provides six inches of adjustability that paves the way for a large load of luggage when the situation calls for it.
Conclusion
While the brand new 2020 Ford Escape is a reasonably good ride by any measure, the Forester steals the show in terms of style, performance, and virtually any other key category one could think of when rating a vehicle. It is a superior way to ride on the highway with confidence than many brand new vehicles can't match.
The 2020 Ford Escape simply fails to compete in several areas including design, versatility, ruggedness, and several other critical factors when it comes to determining which vehicle one should make their own.
The 2020 Subaru Forester is not only the smart choice for anyone in the market for an SUV crossover, but it is also the glamorous option as well. It is the type of ride that will get neighbors wishing they had one too. When they do, send them to Olathe Subaru for a test drive of the new 2020 Subaru Forester for sale in Olathe, Kansas City!